Almost No-Knead Sourdough Bread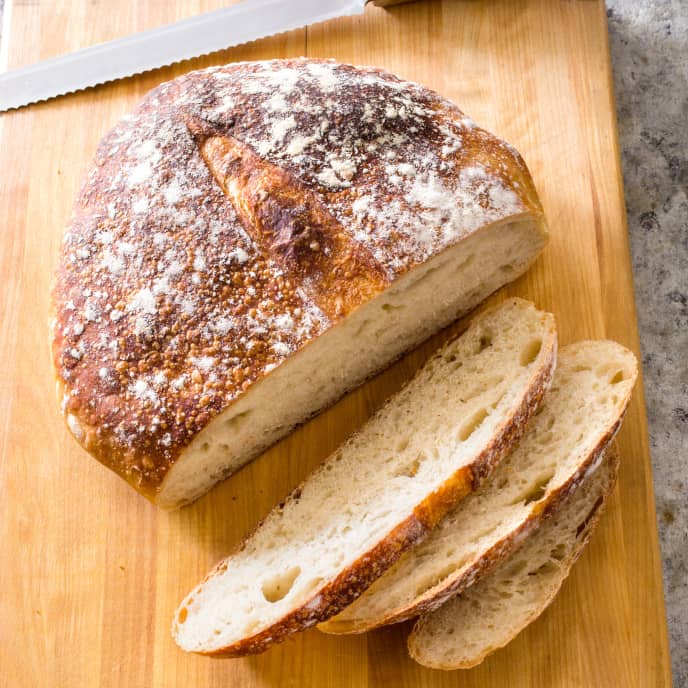 | Serves | Total Time |
| --- | --- |
| 1 loaf | 24.00 hours |
Ingredients
520 g bread flour
1.75 tsp salt
360 g room-temperature water
85 g starter
Cookware
1 bowl
1 large bowl
1 plastic wrap
1 12 x 12 parchment paper
1 Dutch oven
Instructions
Step 1
Whisk bread flour and salt in a bowl. Hand whisk room-temperature water and starter in a large bowl until smooth. Add flour mixture to water mixture and stir.
Step 2
Hand knead to form shaggy ball. Cover with plastic wrap and let sit at room temperature for 12 to 18 hours.
Step 3
Spray vegetable oil on 12 x 12 parchment paper.
Step 4
Knead dough 10 to 15 times.
Step 5
Transfer the dough to parchment and Dutch oven. Cover Dutch oven with plastic wrap. Put Dutch oven in middle of off oven with 3 cups of boiling water on bottom rack.
Step 6
Keep in off oven for 2 to 3 hours until dough doubles in size or little finger mark springs back in dough.
Step 7
Remove bread and water from oven. Discard plastic wrap.
Step 8
Flour top of loaf and score 7" long x 1/2" deep.
Step 9
Cover Dutch oven and place on middle rack. Heat oven to 425°F and bake for 30 minutes.
Note
Oven should be off when the Dutch oven is placed in it.
Step 10
Start timer when oven is turned on.
Step 11
Remove lid and bake for 20 to 30 minutes until brown and bread has an internal temperature of 210°F.
Step 12
Remove from pot and rest and cool for 2 hours before serving.
Source
Comments