Buttermilk Whole Wheat Waffles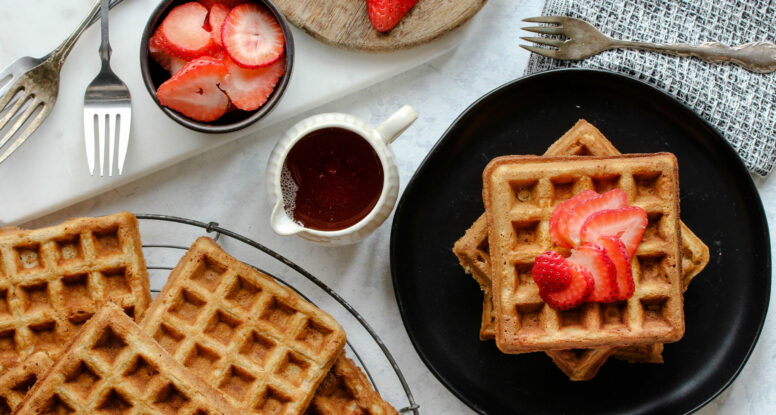 | Serves | Total Time |
| --- | --- |
| 2 | 0 minutes |
Ingredients
some strawberries
some raspberries
some blackberries
some blueberries
1 lemon
some sugar
0.5 cup whole wheat flour
0.5 cup all-purpose flour
1 Tbsp cornmeal
0.25 tsp salt
1 tsp baking soda
1 egg
1 cup buttermilk
2.5 Tbsp butter
some milk
some maple syrup
Cookware
1 waffle iron
1 medium bowl
1 medium bowl
Instructions
Step 1
Combine strawberries, raspberries, blackberries, and blueberries and then toss gently with a little lemon juice, lemon zest and then sprinkle with a little sugar to taste. Set aside to macerate while mixing up the waffle ingredients.
Step 2
Preheat waffle iron.
Step 3
In a medium bowl, whisk together the whole wheat flour, all-purpose flour, cornmeal, salt, and baking soda.
Step 4
In another medium bowl, whisk the egg. Add the buttermilk and the cooled melted butter and whisk again. Gradually add to the dry ingredients to form a batter and mix gently with a spoon until combined. Thin batter with a little 2% milk if needed.
Step 5
Lightly oil the waffle grill and spoon batter into the waffle iron. Cook until golden brown. Serve immediately with butter, maple syrup and berries. Also, the waffles freeze well.
Source
Comments