Chocolate Pizzelle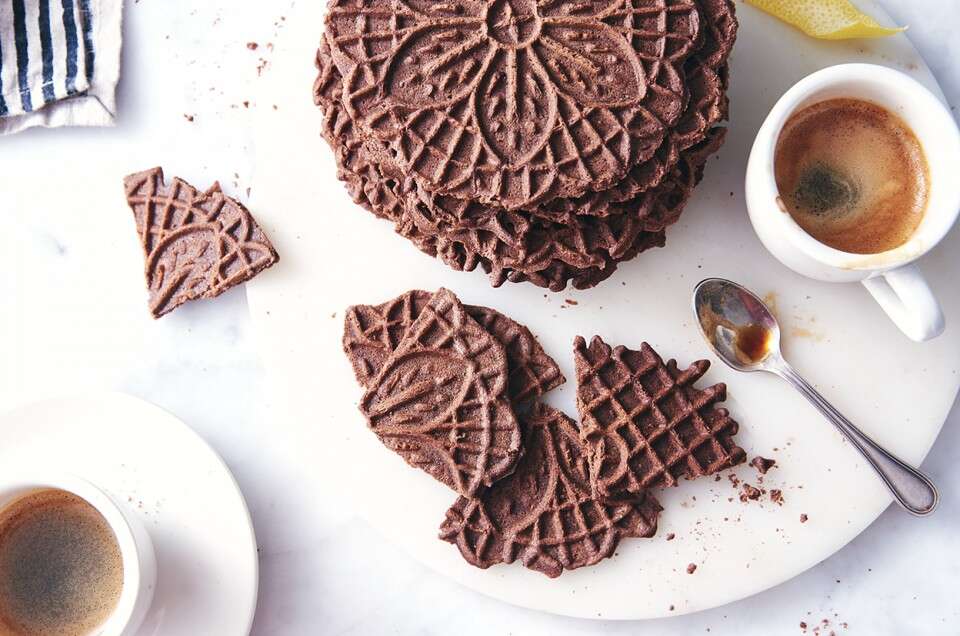 | Serves | Total Time |
| --- | --- |
| 28 | 25 minutes |
Ingredients
3 large eggs
198 g granulated sugar
1 tsp vanilla
0.5 tsp espresso powder
0.38 tsp salt
21 g Dutch-process cocoa
2 tsp baking powder
200 g all-purpose flour
113 g melted unsalted butter
1 plain pizzelle batter (optional)
0.5 tsp hazelnut flavor (optional)
Cookware
Instructions
Step 1
Beat together the eggs, granulated sugar, vanilla, espresso powder, and salt till smooth.
Step 2
Add the Dutch-process cocoa and baking powder, again beating till smooth.
Step 3
Add the all-purpose flour, mixing till well combined. Add the melted unsalted butter, again mixing till well combined.
Step 4
Bake pizzelle according to your pizzelle iron instructions. A tablespoon cookie scoop works well for scooping batter onto the iron; a level scoopful of batter is the right size for most standard pizzelle makers.
Step 5
To make two-tone pizzelle: Prepare plain pizzelle batter (optional), flavoring it with 1/2 teaspoon hazelnut flavor (optional). Using a teaspoon scoop (which holds 2 level measuring teaspoons), drop a chestnut-sized ball of vanilla batter just below center in the cooking area of the pizzelle iron. Drop a slightly smaller ball of chocolate batter just above the center line, nestling it right next to the vanilla batter. Close the iron, and bake according to the manufacturer's directions.
Source
Comments