Oreos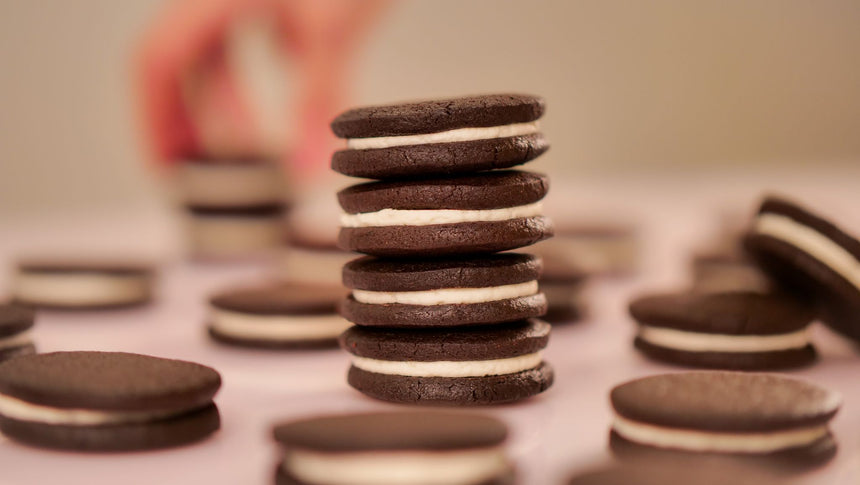 Total Time
51 minutes
Ingredients - Biscuit
225 g butter
50 g muscavado sugar
150 g caster sugar
1 large egg
250 g all-purpose flour
150 g cocoa powder
1 tsp salt
0.5 tsp baking soda
Ingredients - Filling
160 g butter
0.13 tsp salt
250 g confectioners' sugar
1.5 Tbsp whole milk
0.25 tsp vanilla
Cookware
1 stand mixer
1 rolling pin
1 parchment paper
1 baking sheet
Instructions - Biscuit
Step 1
Preheat oven to 375°F.
Step 2
In a stand mixer, cream together butter, muscavado sugar, and caster sugar until it is light and fluffy.
Step 3
Beat in 1 large egg.
Step 4
Add all-purpose flour, cocoa powder, salt, and baking soda and bring together.
Step 5
Roll dough with a rolling pin to 3 mm (1/8 inch) thick in two stages with an unfloured rolling pin and between two sheets of parchment paper.
Step 6
Refrigerate the rolled dough for at least 30 minutes.
Step 7
Use a 4 cm (1.5 inch) cookie cutter to cut out cookies and place on baking sheet.
Step 8
Bake at 375°F for 14 to 16 minutes.
Instructions - Filling
Step 9
Cream butter and salt for 3 to 5 minutes until it is nice and pale.
Step 10
Add confectioners' sugar in two stages and keep mixing until it is nice and pale.
Step 11
Add whole milk and vanilla and beat until nice and pale.
Step 12
Pipe buttercream in between two biscuits with the flat sides in the middle.
Step 13
Refrigerate for a little bit so the buttercream firms up.
Step 14
Enjoy!
Source
Comments