Twix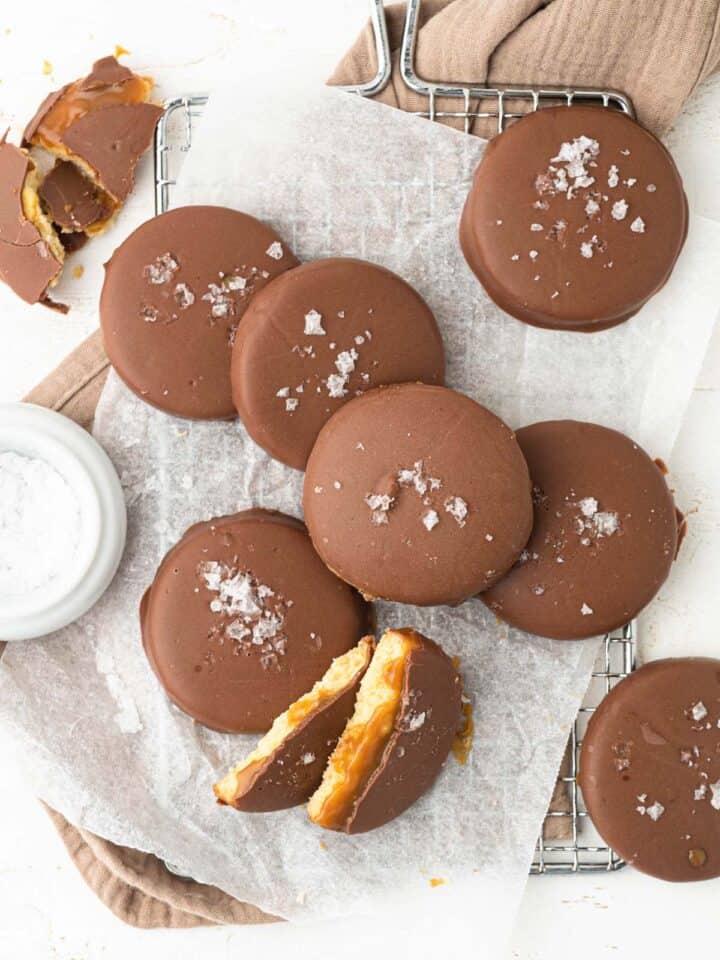 | Serves | Total Time |
| --- | --- |
| 15 cookies | 65 minutes |
Ingredients
Caramel
Cookie
240 g all-purpose flour
70 g powdered sugar
180 g unsalted butter
1 egg yolk
Chocolate Coating
250 g compound milk or semi-sweet chocolate
some flaky salt
Cookware
1 small saucepan
1 large bowl
1 parchment paper
1 cookie cutter
1 wire rack
Caramel Instructions
Step 1
Combine sweetened condensed milk, brown sugar, Treacle or golden syrup, unsalted butter, and salt in a small saucepan and bring to a boil.
Step 2
Simmer over medium heat until the sugar has completely dissolved and the mixture has thickened slightly.
Step 3
Remove from the heat and place in the fridge to chill completely.
Cookie Instructions
Step 4
Combine the all-purpose flour and powdered sugar in a large bowl.
Step 5
Add the chilled unsalted butter and rub it into the dry mixture with your fingers until it forms a sand-like texture.
Step 6
Add the egg yolk and begin to knead the dough until it forms a shaggy dough.
Step 7
Transfer the cookie dough to your work surface and continue to knead until it comes together to form a ball.
Step 8
Place the dough between two sheets of parchment paper and roll it out to 1/4 inch / 6 mm in thickness.
Step 9
Place the dough into the fridge to chill for a minimum of 1 hour.
Step 10
Preheat the oven to 170°C/340°F, fan forced, and line an oven tray with parchment paper.
Step 11
Once chilled remove the baking paper and cut out medium-sized rounds with a cookie cutter.
Step 12
Place the cookies on the lined tray and bake for 15 minutes, or until lightly golden brown.
Step 13
Remove and cool completely.
Assembly Instructions
Step 14
Transfer the caramel to a piping bag fitted with a small round tip.
Step 15
Pipe a dollop of caramel on top of each cookie, leaving a 1 cm / 1/3 inch border around the edge of the cookie (this gives the caramel some space to spread)
Step 16
Melt the chocolate over a hot water bath or in the microwave until smooth
Step 17
Place the cookies on a wire rack and pour the melted compound milk or semi-sweet chocolate over the cookies to coat
Step 18
Carefully transfer the coated cookies onto an oven tray lined with baking paper and sprinkle with flaky salt
Step 19
Leave the cookies at room temperature for 30 minutes to set.
Step 20
Enjoy!
Source
Comments