Peanut Butter Cream Pie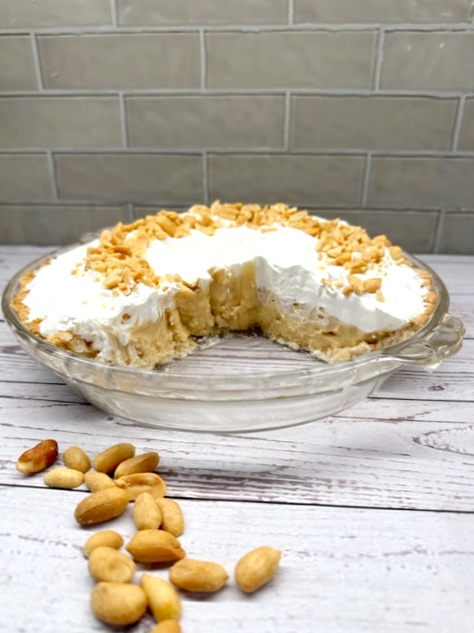 Total Time
20 minutes
Ingredients
1 cup (198 g) granulated sugar
0.5 cup (58 g) cornstarch
0.25 tsp salt
3 cups (681 g) whole milk
3 egg yolks
0.5 cup (68 g) creamy peanut butter
2 tsp vanilla
1 pie crust
some whipped topping or homemade whipped cream (optional)
some peanuts (optional)
some hot fudge sauce or chocolate syrup (optional)
Cookware
1 small bowl
1 medium saucepan
1 waxed paper or plastic film
Instructions
Step 1
Make a crème pâtissière. Whisk together the granulated sugar, cornstarch, and salt in a small bowl and set aside.
Step 2
Put the whole milk and the egg yolks in a medium saucepan, and whisk until smooth.
Step 3
Turn on the heat to low.
Step 4
Slowly add the sugar mixture to the milk mixture.
Step 5
Increase the heat to medium, and whisk constantly until the mixture comes to a boil and thickens to a pudding consistency.
Step 6
Remove the pan from heat, and pour the mixture into a bowl.
Step 7
Press waxed paper or plastic film onto the surface of the pudding immediately.
Step 8
Cover the pudding and refrigerate until the pudding is completely cool.
Step 9
Use a hand mixer to whip the chilled pudding until it is creamy, then add the creamy peanut butter and the vanilla.
Step 10
Continue to beat the mixture until evenly blended and creamy.
Step 11
Pour the filling into a cool prebaked pie crust.
Step 12
If desired, top with whipped topping or homemade whipped cream (optional).
Step 13
Garnish with crushed peanuts (optional) if you like.
Step 14
Drizzle with hot fudge sauce or chocolate syrup (optional) if desired.
Source
Comments