Strawberry Rhubarb Crisp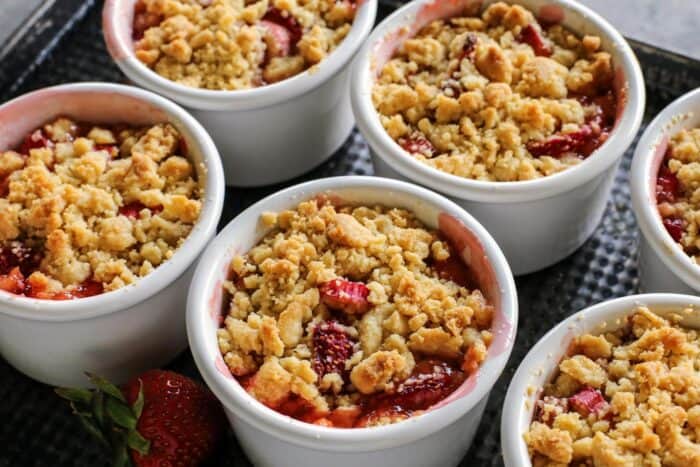 | Serves | Total Time |
| --- | --- |
| 4 | 30 minutes |
Ingredients - Filling
1 cup frozen strawberries
1 cup frozen rhubarb
4 Tbsp granulated sugar
1 Tbsp orange juice
1 tsp orange zest
1 pinch salt
0.5 Tbsp all-purpose flour
Ingredients - Topping
0.5 cup all-purpose flour
2 Tbsp light brown sugar
0.25 cup granulated sugar
1 pinch salt
0.5 cup old fashioned oats
3 oz unsalted butter
Cookware
1 large bowl
1 oven proof ramekins
1 pastry blender
Instructions - Filling
Step 1
Preheat the oven to 375°F.
Step 2
In a large bowl, mix halved frozen strawberries, 1 inch diced frozen rhubarb, granulated sugar, orange juice, orange zest, salt and all-purpose flour. Stir until well combine and transfer mixture to oven proof ramekins.
Instructions - Topping
Step 3
In a large bowl combine all-purpose flour, light brown sugar, 1/4 cup granulated sugar, salt and old fashioned oats. Using a pastry blender, a fork or your hands cut in cold unsalted butter. Mix until ingredients resemble a coarse meal and butter is combined (be sure to not over mix into one large ball of dough).
Step 4
Sprinkle topping onto filling to cover. Bake until top is golden and fruit is bubbly, about 30 minutes.
Source
Comments