Kroket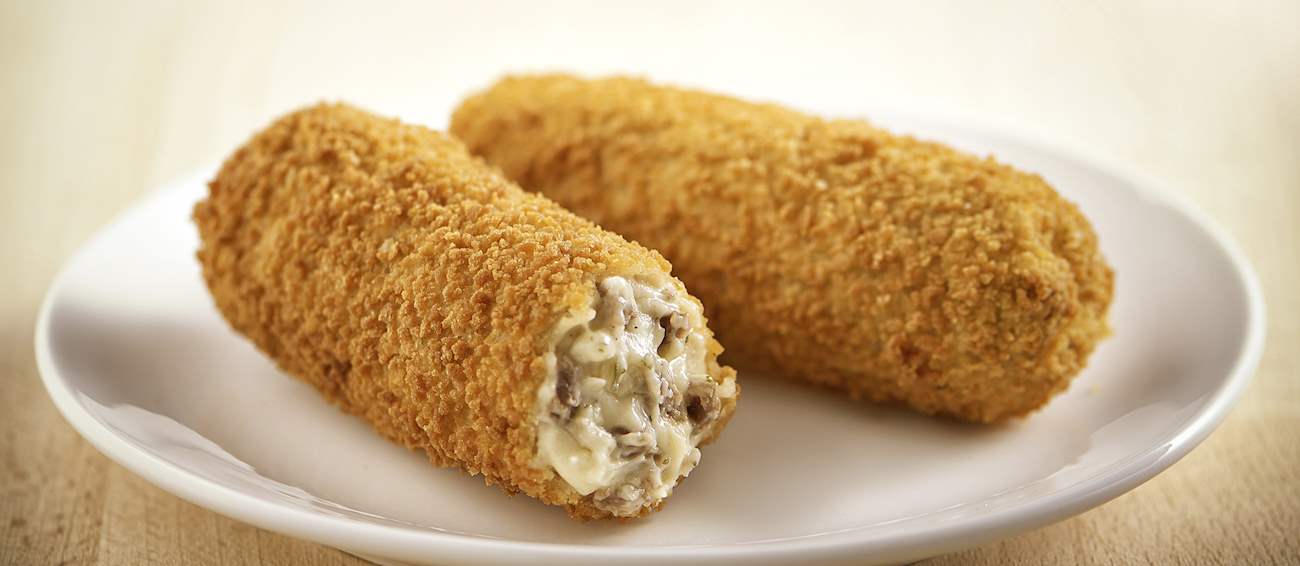 Total Time
1.80 hours
Ingredients
1 lb ground beef
5 cups water
1 Tbsp Worcestershire sauce
1.5 tsp salt
1 tsp pepper
0.5 tsp chives
4 oz butter
1 cup all-purpose flour
1 cup Italian seasoned breadcrumbs
1 egg white
2 Tbsp milk
some mustard or deli brown mustard (optional)
some pickles (optional)
Cookware
1 sauce pan
1 strainer
1 wok or frying pan
Instructions
Step 1
Dough: Brown ground beef.
Step 2
Drain to ground beef, add water, Worcestershire sauce, salt, pepper, and chives and cook for about 15 minutes. Set aside.
Step 3
Melt butter in sauce pan.
Step 4
Turn off heat.
Step 5
Add all-purpose flour to mix to form a stiff dough.
Step 6
Then pour beef and broth through a strainer.
Step 7
Stir the meat into dough and about 3 cup of the broth pouring it gradually so the sauce doesn't become lumpy, cook until texture is stiff.
Step 8
Let cool and refrigerate 1 hour or overnight.
Step 9
Breading and frying: Roll the dough into rolls 4 inches long and 1 inch wide.
Step 10
Coat with Italian seasoned breadcrumbs.
Step 11
Refrigerate for 30 minutes.
Step 12
Mix egg white and milk.
Step 13
Dip rolls in egg mixture and bread crumbs again.
Step 14
Deep fry in a wok or frying pan 2 to 3 minutes until golden brown.
Step 15
Serve with mustard or deli brown mustard (optional) and pickles (optional)
Step 16
Enjoy!
Source
Comments