Sweet Pastry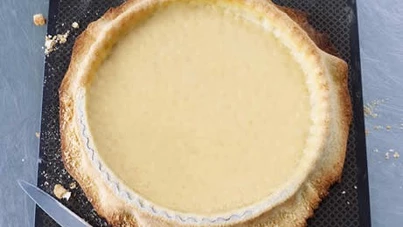 Total Time
15 minutes
Ingredients
165 g plain flour
25 g ground almonds
120 g chilled unsalted butter
55 g caster sugar
1 medium egg
Cookware
1 large bowl
1 cling film
Instructions
Step 1
Stir in the plain flour and ground almonds together in a large bowl, then add the cubed chilled unsalted butter and rub in your fingertips until the mixture looks like crumbs. Stir in the caster sugar.
Step 2
Break in the egg and work into the mixture with your fingers, breaking it together to form a soft dough.
Step 3
Tip the dough onto a lightly floured work surface and shape it into a ball. Flatten with your fingers to a disc and wrap in cling film. Chill for at least 3 hours before using. 15 minutes.
Source
Comments