Orange Honey Tofu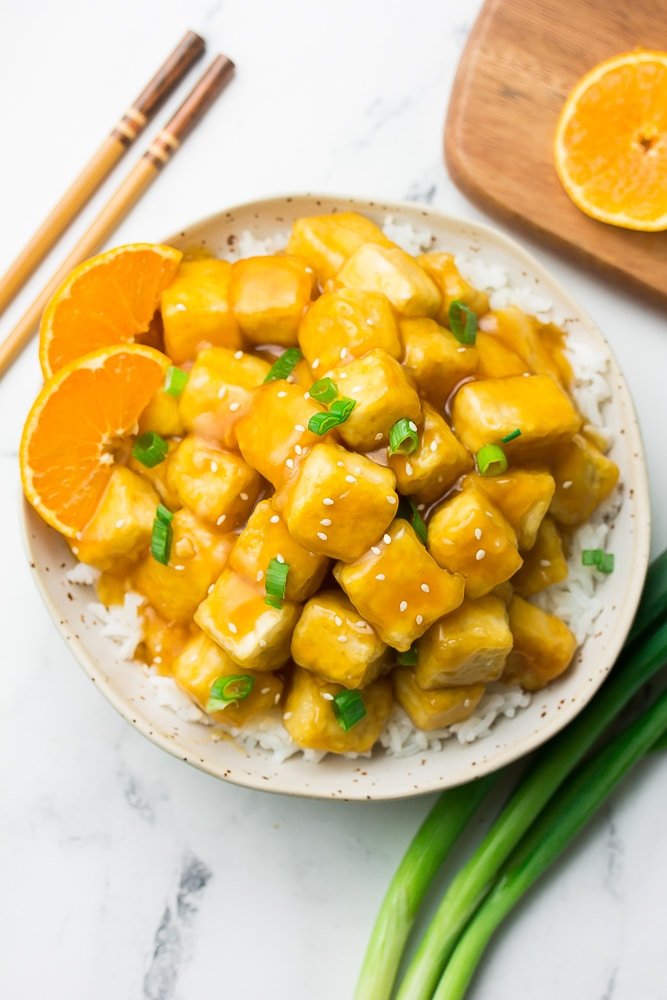 | Serves | Total Time |
| --- | --- |
| 5 | 1.25 hours |
Ingredients
2 pan-fried or air fryer tofu
1 cup vegetable broth
0.5 cup orange juice
0.25 cup sugar (coconut sugar, brown sugar, or pure maple syrup)
8 tsp honey
0.33 cup rice vinegar
0.25 cup tahini or soy sauce
3 cloves garlic
2 tsp ginger
1 tsp Sriracha hot sauce
0.125 tsp red pepper flakes (alternative)
2 Tbsp cornstarch
0.25 cup water
5 cups brown or white rice with chives
3 Tbsp green onions (optional)
some sesame seeds (optional)
Cookware
Instructions
Step 1
Make either pan-fried or air fryer tofu.
Step 2
In a large pan (large enough to fit the tofu and sauce), add vegetable broth, orange juice, sugar (coconut sugar, brown sugar, or pure maple syrup), honey, rice vinegar, tamari or soy sauce, garlic, ginger, red pepper flakes (alternative) or Sriracha hot sauce. Bring to a boil, and cook for 1 minute or two.
Step 3
Mix the cornstarch and water in a small bowl to combine, and then add to the pot.
Step 4
Stir over medium-high heat constantly for a couple of minutes, until the sauce thickens.
Step 5
Now add the tofu to the pan and stir to coat the tofu in the sauce. Remove from heat.
Step 6
Serve over brown or white rice with chives. Sprinkle with green onions (optional) and/or sesame seeds (optional). Add a side of steamed broccoli or cauliflower if desired.
Source
Comments