Spicy Pumpkin Curry Pot Pie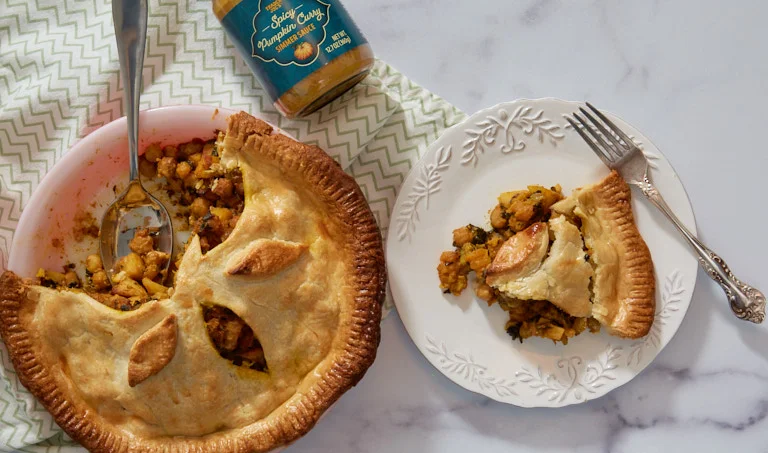 | Serves | Total Time |
| --- | --- |
| 8 | 1.17 hours |
Ingredients
0.5 cup onion
2 parsnips
1 cup squash
3 handfuls kale
some salt
1 can garbanzo beans
1 jar spicy pumpkin curry simmer sauce
0.33 cup raisins
1 pie crust
some canola oil spray
1 egg
Cookware
1 9-inch pie plate
1 fork
1 small bowl
1 pastry brush
Instructions
Step 1
Preheat oven to 400°F. Sauté onion & parsnips in oil for 5 minutes. Stir in squash. Cover and cook 5 minutes. Add kale and salt, stir, cover and cook another 5 minutes or so until vegetables are tender. Add garbanzo beans, spicy pumpkin curry simmer sauce and raisins, stir to combine. Cover and reduce heat to simmer 5 minutes. Remove from heat.
Step 2
Remove pie crust from refrigerator. Lay crust on a clean work surface, smoothing any cracks with your hands. Grease a 9-inch pie plate with canola oil spray. Transfer simmered vegetables to pie plate. Top with pie crust, cutting three oblong vents in center of crust.
Step 3
Trim and seal crust edges (use a fork to crimp edges or use your hands for a more rustic look). In a small bowl, whisk egg and 1 tablespoon water. Use a pastry brush to cover crust with egg wash.
Step 4
Bake pie on center rack of oven for 30 to 35 minutes, or until crust is a deep golden brown. Remove from heat and let sit 15 minutes before serving.
Source
Comments