Greek Orzo Stuffed Red Peppers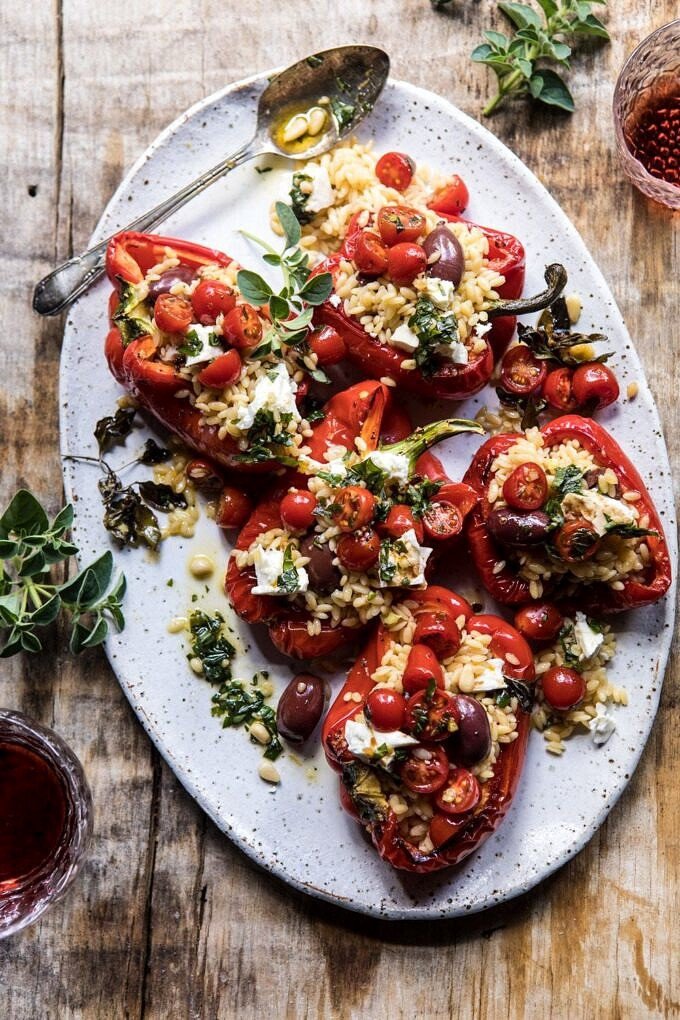 Total Time
25 minutes
Ingredients
3 red bell peppers
some salt
some pepper
5 Tbsp olive oil
3 cloves garlic
3 sprigs oregano
1 cup dry orzo
2 Tbsp balsamic vinegar
0.5 cup Kalamata olives
2 pepperoncini
2 Tbsp pine nuts
0.5 cup feta
1 cup basil
1 cup cherry tomatoes
0.25 cup olive oil
1 pinch crushed red pepper flakes
1 lemon zest
some salt
Cookware
Instructions
Step 1
Preheat oven to 400°F. In a 9x13 dish, toss halved red bell peppers with salt, pepper, olive oil, and garlic. Add oregano. Roast 20 to 25 minutes.
Step 2
Meanwhile, cook dry orzo according to package directions. Drain and toss with balsamic vinegar, Kalamata olives, pepperoncini, pine nuts, and feta.
Step 3
Prepare lemon basil tomatoes by combining all ingredients: basil, halved cherry tomatoes, 1/4 cup olive oil, crushed red pepper flakes, lemon zest, and salt.
Step 4
Stuff inside peppers and drizzle with lemon basil tomato sauce.
Comments