Black Bean Burrito Bake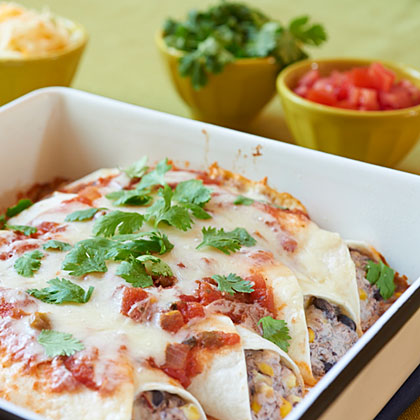 Total Time
30 minutes
Ingredients
1 can chipotle chiles in adobo sauce
0.5 cup sour cream
1 can black beans
1 cup corn
4 flour tortillas
1 cup TJ's Spicy Smoked Peach Salsa
0.5 cup Monterey Jack cheese
Cookware
1 medium bowl
1 food processor
1 11 x 7-inch baking dish
Instructions
Step 1
Preheat oven to 350°.
Step 2
Remove one chile from chipotle chiles in adobo sauce can. Chop chile. Reserve remaining adobo sauce and chiles for another use. Combine sour cream and chile in a medium bowl; let stand 10 minutes.
Step 3
Place half of black beans in a food processor; process until finely chopped. Add chopped beans, remaining beans, and corn to sour cream mixture.
Step 4
Spoon 1/2 cup bean mixture down the center of each tortilla. Roll up flour tortillas; place, seam side down, in an 11 x 7-inch baking dish coated with cooking spray. Spread TJ's Spicy Smoked Peach Salsa over tortillas; sprinkle with Monterey Jack cheese. Cover and bake at 350° for 20 minutes or until thoroughly heated.
Source
Comments