Vegetarian Sausage Gravy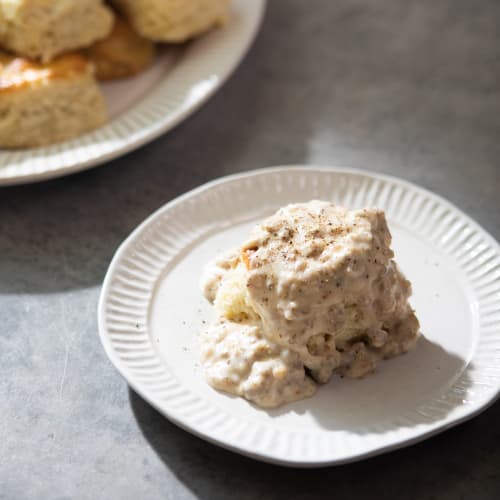 | Serves | Total Time |
| --- | --- |
| 5 | 30 minutes |
Ingredients
1 lb vegetarian sausage
1 lb soy chorizo (alternative)
1 heavy blond roux
1 cup whole milk
1 pinch nutmeg
some salt
some pepper
Cookware
1 large skillet
1 platter
Instructions
Step 1
In a large skillet, cook the vegetarian sausage or soy chorizo (alternative) over medium heat until cooked through and nicely browned, about 15 to 20 minutes. Transfer the sausage to a platter and set aside.
Step 2
Make a heavy blond roux in the same pan as the sausage to incorporate the grease and browned bits.
Step 3
Whisk in the whole milk, making sure to get any lumps out until the mixture is smooth. Add two pinches of nutmeg. Bring to a simmer over medium heat and cook until slightly thickened, about 5 minutes.
Step 4
Stir the sausage into the gravy. Season generously with salt and pepper. Serve warm.
Step 5
Store leftovers in a covered container in the refrigerator for up to 4 days. Reheat gently over low heat.
Step 6
Can be served with Jojo's biscuits.
Source
Comments