Club Crackers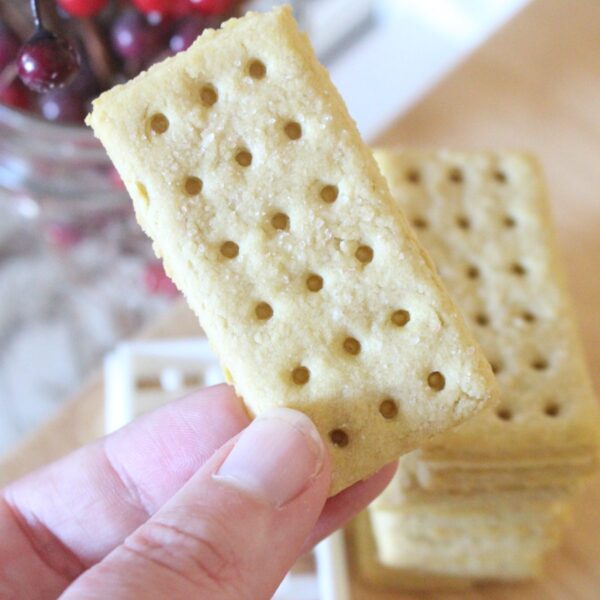 | Serves | Total Time |
| --- | --- |
| 6 cups | 25 minutes |
Ingredients
2 cups einkorn flour
1 tsp baking powder
0.5 tsp salt
1 stick cold butter
1 Tbsp honey
0.67 cups milk
2 Tbsp melted butter
some salt
Cookware
1 food processor
1 rolling pin
1 pizza cutter
1 fork
1 baking tray
Instructions
Step 1
Preheat over to 400° F
Step 2
Add einkorn flour, baking powder, and salt to food processor and pulse until well combined.
Step 3
Add cold butter in small cubes, pulse until crumbly.
Step 4
Add honey and milk, pulse until ball forms.
Step 5
If dough is still very sticky, add a bit more flour and pulse again.
Step 6
Remove dough from food processor and divide into two balls to roll out separately.
Step 7
Using a rolling pin, roll dough to about 1/8" thick. Using a pizza cutter, cut the dough into whatever size crackers you'd like.
Step 8
Poke holes into each cracker with a fork. I like to do 3 to 4 rows of holes to make them look like the store-bought version.
Step 9
Transfer crackers to baking tray and bake at 400° for 10 minutes, or until golden brown.
Step 10
Remove from oven and immediately brush crackers with melted butter. Sprinkle with salt to taste.
Step 11
Allow to cool completely before storing in an air tight container.
Source
Comments