Honey and Walnut Baked Brie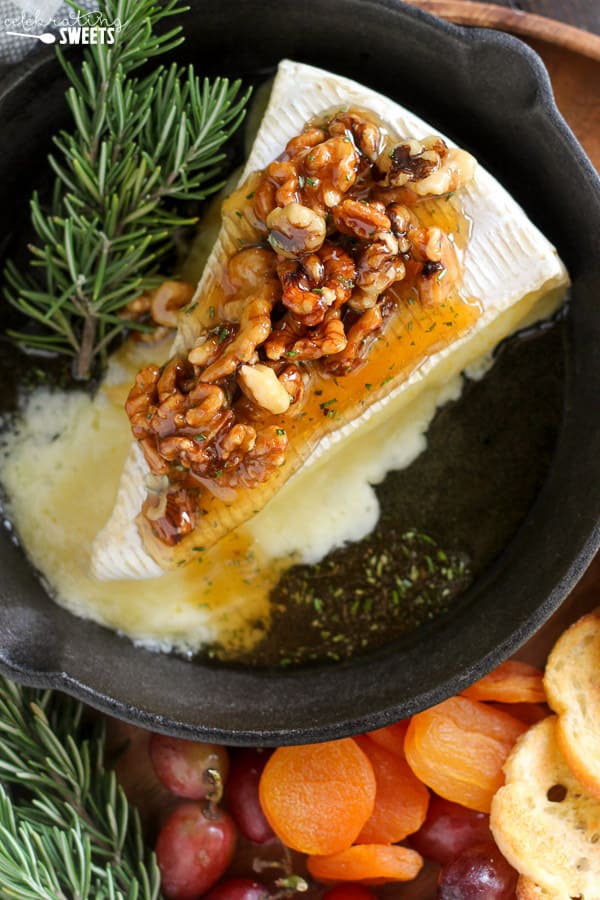 | Serves | Total Time |
| --- | --- |
| 4 | 15 minutes |
Ingredients
1 wedge or wheel Brie
57 g walnuts
84 g honey
0.5 tsp rosemary
21 g dried cherries or cranberries (optional)
some salt
some toasted bread (alternative)
some crackers
some fruit (alternative)
Cookware
1 cast iron skillet, casserole dish, or pie plate
1 skillet
Instructions
Step 1
Preheat oven to 350°F. Place the Brie into a cast iron skillet, casserole dish, or pie plate. Place into the oven and bake for 5 to 15 minutes, until softened but not completely melted.
Step 2
Toast the walnuts on the range in a skillet.
Step 3
Meanwhile, combine honey, toasted walnuts, rosemary, and dried cherries or cranberries (optional). Stir until completely combined. If your honey is really thick you can place it in the microwave for a few seconds to thin it out a bit. Don't microwave it too long or it will become really thin.
Step 4
Once the Brie is done, sprinkle it with a little salt, then spoon over the honey mixture and sprinkle with a little more sea salt. Serve immediately with toasted bread (alternative), crackers and fruit (alternative).
Source
Comments