Potato Soup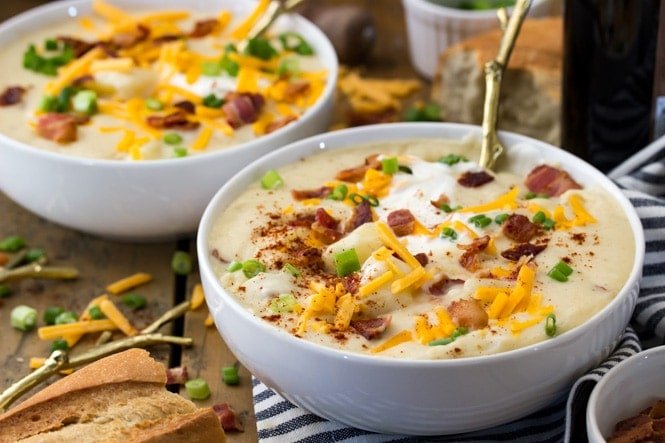 Total Time
13 minutes
Ingredients
6 large Russet potatoes
0.5 lb sliced bacon
1 large brown onion
3 cloves garlic
2 cups half-and-half
0.5 tsp white pepper
0.5 tsp garlic powder
0.5 tsp onion powder
0.5 tsp salt
0.5 cup Parmesan cheese
1 cup extra sharp cheddar cheese
some bacon chives
Cookware
Instructions
Step 1
Bake the Russet potatoes.
Step 2
Peel the potatoes and cut and cube them. Set aside.
Step 3
Cut the sliced bacon into small pieces and place in soup pan and fry until brown and crisp. Place bacon on paper towel to drain and set aside for garnish.
Step 4
Place the sliced brown onion in the bacon grease and sauté until onions are soft and clear, add garlic and potatoes and sauté for 3 minutes.
Step 5
Add very hot water just enough to cover the potatoes and bring to a boil, simmer for 10 minutes, add 2 cups of half-and-half or mild along with white pepper, garlic powder, onion powder, and salt.
Step 6
When mixture comes to a boil, bring fire to low and add Parmesan cheese and extra sharp cheddar cheese little by little until it all melts.
Step 7
Place mixture into a blender, or you can blend it in the soup pan with a BRAUN blender until smooth.
Step 8
You can serve it with sharp cheddar cheese and bacon chives on the top, whatever you prefer. Serve with warm bread and salad.
Source
Comments