Ratatouille Provençale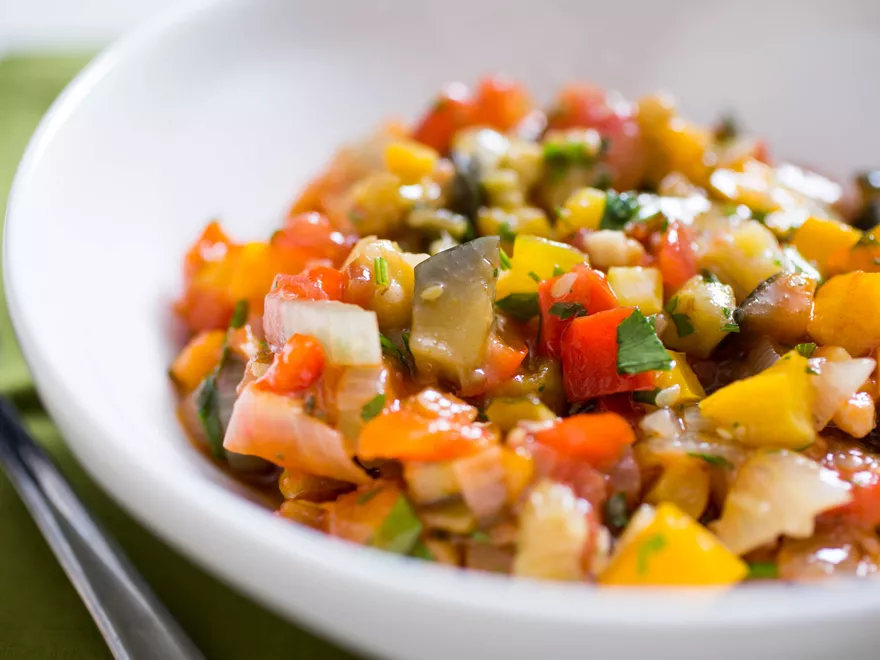 | Serves | Total Time |
| --- | --- |
| 8 | 49 minutes |
Ingredients
0.25 cup olive oil
1 medium eggplant
1 lb zucchini
2 Tbsp olive oil
1.5 cups sliced onions
2 large red bell peppers
3 cloves garlic
some salt
some pepper
1 14-oz can diced tomatoes
3 sprigs fresh thyme
0.5 tsp dried thyme (alternative)
1 bay leaf
0.25 cup chopped basil
some pitted black olives (optional)
Cookware
1 large skillet or Dutch oven
Instructions
Note
Served on a platter that shows off its contrasting colors, this dish look like a colorful Cubist style life.
Step 1
Heat in a large skillet or Dutch oven over high heat 1/4 cup olive oil.
Step 2
Add and cook, stirring, until golden and just tender, 10 to 12 minutes eggplant, peeled and cut into 1-inch chunks and zucchini, cut into 1-inch chunks.
Step 3
Remove the vegetables to a plate and reduce the heat to medium-high. Add and cook, stirring, until the onions are slightly softened 2 Tbsp olive oil and sliced onions.
Step 4
Add and cook, stirring occasionally, until the vegetables are just tender but now browned, 8 to 12 minutes red bell peppers, cut into 1-inch squares and garlic, finely chopped.
Step 5
Season with salt and pepper to taste.
Step 6
Add diced tomatoes, drained, fresh thyme or dried thyme (alternative) and 1 bay leaf.
Step 7
Reduce the heat to low, cover, and cook for 5 minutes. Add the eggplant and zucchini and cook until everything is tender, about 20 minutes more. Taste and adjust the seasonings. Stir in chopped basil and pitted black olives (optional), chopped.
Source
Comments